Brandywell stadium: Construction at Derry City Football Club to begin in May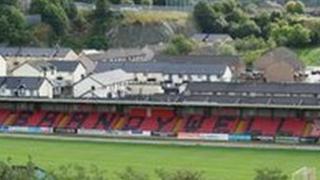 Derry City football club chairman, Philip O'Doherty, has said the multi-million pound redevelopment of Brandywell stadium will begin in May.
The first stage will be the demolition of the Glentoran stand and the building of a new stand with new changing and office facilities.
Work on a new pitch and dog track will begin towards the end of October.
Mr O'Doherty said it was a "welcome relief" to be able to tell fans the details.
"For the past couple of years we've been working very closely with Derry city council and we wanted to give the fans some information.
"We can now confirm the start date for 28 May when there will be diggers on site working on the stand. It's like a late Christmas present to be finally be told the start date."
'Better facilities'
Investment in the ageing stadium has been mooted for many years and the laying of a new pitch will remove the famous 'Brandywell slope'.
"We need better facilities for the fans, especially for the players and the coaching staff. The football club are also hoping to get a corporate hospitality area to give a better experience for our sponsors and help raise money as well," he said.
"There's going to be several phases of work, the first of which will begin at the Glentoran stand which will be demolished and work will be ongoing throughout the season.
"Temporary accommodation will be put in and a lot of the fans will be moved over to the south end park end of the stadium."
Combined funding from Derry city council and Stormont government departments means that around £10m will be spent on the overall project, although that is not quite finalised.
The chairman also reassured fans concerned at how construction will affect match attendance.
"Normally there's somewhere between 1,600 and 2,000 at the game so we should be able to accommodate that until the work finishes."