Facebook page calls for the return of Game of Thrones sculptor's sea god statue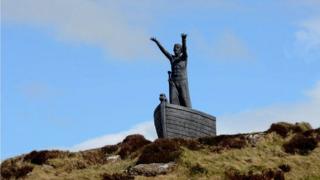 A Facebook page calling for the return of a stolen statue taken from Binevenagh mountain, near Limavady, County Londonderry has received a global response.
The six-foot sculpture of sea god Manannán Mac Lir, made out of fibre-glass and stainless steel, was stolen on Wednesday.
The online campaign was started by photographer Mari Ward-Foster.
She has asked people to post online pictures of the statue to get it home.
Ms Ward-Foster said she had been bowled over by the public reaction to her Facebook page, which she said had received 1,200 'likes'.
"I live in Castlerock and as a local landscape photographer I often go up to Gortmore to take pictures. The icing on the cake is the incorporation of this iconic statue into the picture - it is just glorious," she said.
"I was sitting last night thinking how do we get this statue back.
"I thought one way is to set up a Facebook page and I have been bowled over by the response.
"I sincerely hope those who took it can see the light and leave him back in darkness."
Sculptor John Sutton, who has worked on the award-winning Game of Thrones series, has spoken of his shock at the removal of the statue.
He said it would have taken a number of men with angle grinders several hours to remove the figure from its base.
Police have said they are investigating the "religious aspect" of the theft.
Those who made off with the sea god statue left a wooden cross with the words 'You shall have no other gods before me' in its place.