Hospital worker Aisling Smith assaulted paramedic in Londonderry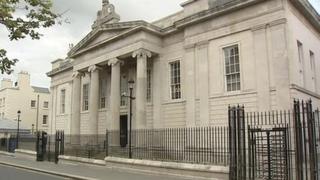 A hospital worker who assaulted a paramedic in Londonderry has been given a two month suspended jail sentence.
Aisling Smith, 24, from Crosserlough in County Cavan, pleaded guilty to slapping the paramedic in the face as he tried to treat her for a suspected head injury on 10 January.
Smith had been brought to Strand Road police station after being found lying drunk on a street.
The judge ordered her to pay £200 compensation to the paramedic.
Police summoned an ambulance crew to the station after Smith climbed onto a desk and fell off.
She was being taken to Altnagelvin Hospital when she verbally abused the paramedic.
Smith was employed as a multi-task attendant at Cavan general hospital.