Derry woman granted bail over attempted murder charge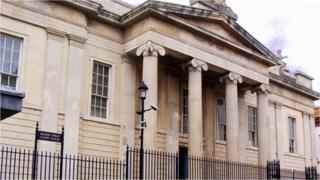 A 27-year-old Londonderry woman has been granted bail after she appeared in court charged with attempting to murder her partner.
Catrina Josephine Johnston is from Dunvale Close in the Duncreggan area of the city.
The incident is alleged to have happened there on Tuesday
The court was told that the man's lung was punctured and that the knife narrowly missed his heart.
A detective constable told District Judge Barney McElholm that she believed she could connect the defendant to the attempted murder charge.
Opposing bail she told the court that paramedics rushed the victim to Altnagelvin Hospital where doctors found a 10 centimetre deep wound.
He was uncooperative and wouldn't make a statement but told the police that the incident followed an argument with his girlfriend.
The court was told it started when he challenged her about money and in a rage he smashed a portable television in a bedroom.
He then left the bedroom and spoke to another man who was drinking in the house.
They heard the defendant pushing her bed against her bedroom door.
The victim became concerned for her safety and he forced his way into the bedroom.
Alcohol
Ms Johnston had a kitchen knife which the victim and his friend managed to take from her.
However Ms Johnston got another knife and allegedly lunged at her boyfriend.
He tried to defend himself with a wine bottle but was stabbed in the chest.
A police officer told the court that during interview Ms Johnston admitted stabbing her boyfriend.
She said he had verbally abused her after which she'd stabbed him in anger.
Applying for bail, a defence solicitor said his client had a background of alcoholism and mental illness.
The district judge released Ms Johnston on bail of £1,000 to appear in court again on 4 March.