Limavady: Union flag may fly at council offices again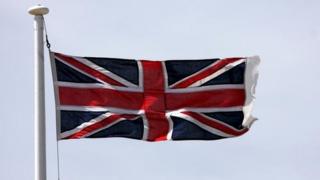 The union flag is expected to fly outside Limavady council offices in County Londonderry for the first time in more than a decade.
The nationalist party Sinn Fein is the largest party on the council.
The flag has not been flown outside the council offices because Sinn Fein has the majority vote
Talks have begun about the flag policy for the new Causeway Coast and Glens District Council, which merges Limavady with Ballymoney, Coleraine and Moyle.
Each of the four councils that will merge into the Causeway Coast and Glens District in April takes a different stance on the flying of the union flag.
The flag flies outside the council offices in Coleraine five days a week and outside Coleraine's town hall every day.
'Inevitable'
It has been agreed that the current status quo in Limavady will be maintained until a final decision is reached.
Sinn Fein councillor Sean McGlinchey said: "It was put forward last week at the Causeway Coast and Glens super council meeting that the flag should fly outside all council buildings.
"There is a nine month consultation period to start in April.
"It looks inevitable for Limavady though.
"Hopefully the super council will agree to let Limavady be and we can come to a compromise," Mr McGlinchey said.
"I would like both flags to fly outside the offices but I am hopeful that the new council will move forward positively.
"If the flag does go up I won't let it take away from the serious issues we need to be focussing on."
Ulster Unionist councillor David Harding said: "Limavady has a significant unionist population and they would appreciate the flag flown.
"I hope all parties can see sense when it comes to making the final decision."