Londonderry pipe bombs: Police investigating 'loyalist groupings'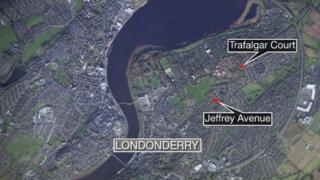 Police have said 'loyalist groupings' are their main line of inquiry in relation to two pipe bombs discovered in Londonderry on Thursday.
The devices were found in the garden of a house in Trafalgar Court and under a car in Jeffrey Avenue.
The two security alerts ended at 19:00 GMT and residents were allowed to return home.
Chf Insp Tony Callaghan told BBC Radio Foyle that police are treating the two incidents as being linked.
"At this stage we're investigating both incidents on the basis that they're linked. We're not ruling out one group or another but I suppose the main line of inquiry would be around loyalist groupings," he said.
"We have seen some punishment type attacks in the past in the area but there hasn't been an upsurge in activity of this sort. This is the early stage of the investigation to make any firm line of inquiry.
"Once again we've seen disruption of ordinary daily life in the city, I was at the scene myself and spoke to one elderly resident who didn't have to leave her home but was nearby and was visibly upset by this.
"These devices are indiscriminate and a very callous thing for people to do."
DUP councillor Hilary McClintock said the alert was distressing for many residents.
"Some of them had severe mobility problems and this is an area where there are a lot of disabled people, elderly people, so it was particularly disruptive to them and we also heard from people who missed vital hospital appointments because they couldn't get out," she said.