Barry McCrory shooting: Partner begged for help during 999 call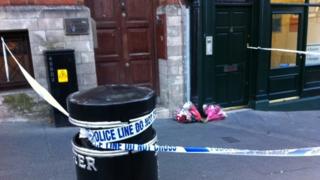 The jury in a murder trial has been played a 999 call of the victim's partner begging for help after a masked man shot her boyfriend.
Kieran Edward Joseph McLaughlin, 60, from Elaghmore Park in Londonderry, denies the murder of Barry McCrory in the city centre in October 2013.
Mr McCrory was found face down on a bed in the flat on Shipquay Street.
In the 999 call, his partner Elizabeth Timoney was heard making a distressed plea for help.
"A masked man has come into my flat, he's a bad man. He's gone into my bedroom, he's told me to wait here, I think he might have shot my boyfriend.
"Please send someone to help me," she said.
Belfast Crown Court also heard that Mr McCrory died from four gunshot wounds.
The deputy state pathologist, Dr Alastair Bentley, said two of the four shots hit Mr McCrory's head, causing extensive injuries.
He said that as a result death would have been rapid.
The court also heard that a search was started following Mr McCrory's murder, and that Mr McLaughlin was found under a parked car in the Rossnagalliagh area of the city in the early hours of 16 October 2013.
The court was told that when Mr McLaughlin was taken from under the car and arrested on suspicion of murder, he said he would need to speak to his solicitor.
When he was searched, various items were located on him.
These included two knives, a pair of night vision glasses, a black balaclava and newspaper cuttings about the murder of Mr McCrory and the search for him.
Also found under the car was a firearm.
The court also heard that when McLaughlin was formally charged with murder later that day, he replied: "Not guilty. This is a media smear campaign."
The case continues.