Barry McCrory murder: Judgement reserved in trial of Kieran McLaughlin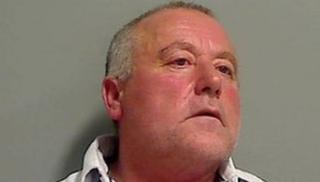 Judgement has been reserved in the trial of a 60-year-old Londonderry man accused of murder.
Kieran Edward Joseph McLaughlin, from Elaghmore Park in the city, denies murdering Barry McCrory, who was shot dead at his flat in October 2013.
Following final oral submissions on Thursday, Mr Justice Horner said he hoped to give his decision "as soon as possible".
The judge will now review all the evidence and submissions in the case.
Mr McLaughlin also denies possessing a sawn-off, double-barrelled shotgun, shotgun cartridges, a pistol with intent to endanger life and possessing an imitation Walther pistol between 9 and 17 October 2013.
He has admitted having the shotgun, pistol and ammunition in suspicious circumstances.
In their closing submissions the prosecution claimed there was a "multiple strand circumstantial case" against Mr McLaughlin that "cries out for explanation" but for which he had no credible answer capable of standing up to scrutiny.
The prosecution said his refusal to give evidence "is a pointer to his guilt".
However, the defence argued that it "would be a bridge too far" for the court to draw such adverse and negative inferences over the refusal of McLaughlin, a man accepted to be suffering from mental health issues.
The defence also said that despite prosecution claims of a circumstantial case, they had ignored the evidence of two key witnesses who failed to identify McLaughlin as the gunman.