Thomas Peter Kelly: Derry man jailed for hiding drugs in buttocks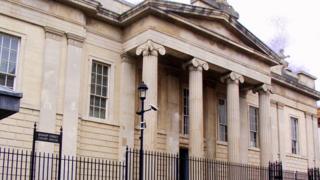 A 27-year-old Londonderry man who was caught smuggling nine bags of cocaine between his buttocks has been jailed for three years.
Thomas Peter Kelly, from Buncrana Road, pleaded guilty to possessing cocaine with intent to supply.
The court heard Kelly had to have his right leg amputated after he was shot in a punishment-style attack in 2011.
The judge said he accepted jail would be harder for Kelly because of his health situation.
Kelly also pleaded guilty to being concerned in supplying mephedrone.
Londonderry Crown Court was told that the offences took place between February and April 2014.
A prosecution barrister told the judge that on 22 April 2014, Kelly was a front-seat passenger in a car parked in Clarendon Street.
A police check showed that the car was uninsured. The vehicle sped off, but was later found in a car park at the Brandywell football stadium.
Kelly was searched and police found on him three bags of cocaine wrapped in £20 notes.
'No concern'
£115 was also found inside the car together with a deal list containing names.
When Kelly was searched by police, officers found nine bags of cocaine concealed between his buttocks.
Kelly told the police he was supplying the drugs to fund his own addiction.
The judge said Kelly had 37 previous criminal convictions, four of them for drugs offences, and at the time of his arrest for the latest offences, he was in breach of nine suspended jail sentences.
The court heard that Kelly had a long history of substance abuse.
"He told the probation service he was flat-out on drugs at the time of his arrest due to the forthcoming amputation of his right lower leg after a so-called paramilitary style shooting in January 2011," the judge said.
"However, it is clear he has shown no concern in relation to the impact of his drugs dealing on others."