Transport Minister Danny Kennedy referred to PPS over railway upgrade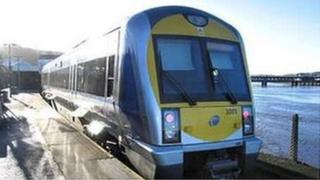 A Stormont committee is to refer Transport Minister Danny Kennedy to the Public Prosecution Service over the Londonderry railway line upgrade.
The Regional Development Committee is examining why the cost almost doubled to £40m, from its original estimate.
It said the minister had failed to respond to a requirement to produce a Project Assessment Review (PAR) report.
The Department for Regional Development said he would share the report once the procurement process was concluded.
'Commercial confidentiality'
"However, he is not in a position to do so immediately due to sensitivity around the commercial confidentiality of the report," a spokesman said.
"The scope of the PAR has been released to the committee already.
"There is an ongoing competition and the minister has taken the view that the report should be released when the competition is complete but not before then."
The department said Mr Kennedy had instigated the review and it was carried out last autumn.
The committee said in a statement that Mr Kennedy had been served with a notice to produce the report by 13:00 GMT on Monday.
"The minister has not produced the report and as agreed at an emergency meeting this morning, the committee is to refer the matter to the PPS for consideration by the Director of Public Prosecutions," it said.
However, a department spokesman said: "The minster is clear that he has acted throughout on legal advice and believes that he has not breached the law in any respect."
'Delay'
Work on a second major upgrade was to begin in May, with the overall project due for completion in 2016.
The second stage of the upgrade involves major re-signalling between Derry and Coleraine and the introduction of a passing loop.
Committee member Cathal Ó hOisín of Sinn Féin said: "We are likely to see a delay in the upgrade now.
"The Regional Development Committee is there to scrutinise the work of the minister and hold him to account on the management of the department."
He added: "The upgrade of the Derry-Coleraine line is an important stage in the improvement of the infrastructure of the north-west and therefore must go ahead."
The department said the original timetable for tendering had been extended by a few weeks, and the "end date for the substantial elements of the project is still expected to be towards the end of 2016".
"The PAR process was essentially about reviewing the estimation of costs produced originally for signalling elements of this project a number of years ago but before any procurement actually took place," a spokesman said.
"It has not changed the actual process to take the project forward."
A spokesperson for Translink said: "We cannot make a comment on this as we are currently in the process of procurement."