Coleraine shooting: Three men released on police bail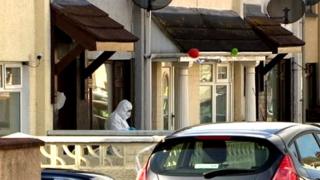 Three men arrested by police investigating a shooting in Coleraine, County Londonderry, have been released.
A man in his 20s was shot in the arms and legs at Maple Drive at about 04:00 GMT on Thursday. Detectives said they were investigating if loyalists linked to the UDA were involved.
The masked gang, who were armed with handguns, ran after their victim after they initially shot him inside a house.
Three men, aged 36, 37 and 42, have been released on police bail.