Londonderry man jailed for assaulting police officer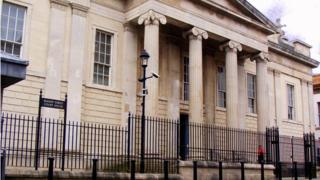 A 51-year-old man has been jailed for six months for assaulting a police officer in Londonderry.
Patrick James McGuigan from Brandywell Road, has a total of 151 convictions.
He committed the latest offence outside a house in Donegal Place on 18 February.
The court was told that McGuigan, who has been an alcoholic for 30 years, took off his coat and offered to fight police officers who were responding to a domestic incident.
When he was arrested for disorderly behaviour he kicked one of the officers on the leg.
McGuigan committed the offence three weeks after he was given a suspended sentence for a previous assault on a police officer and six weeks after he was released from jail for assaulting another officer.
It was the 46th time he has been jailed for assaulting a member of the Police Service of Northern Ireland.