Derry man has bail restrictions relaxed to play football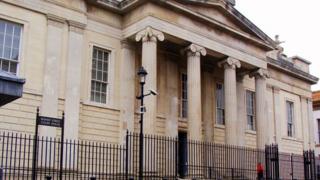 A judge at Londonderry Magistrates' Court has agreed to relax bail restrictions on a man accused of drugs offences, to allow him play football.
Gary McLaughlin, from Rosskeen Park in Derry, is charged with possessing and possessing with intent to supply cocaine and meth.
He is further charged with being concerned in offering to supply drugs.
Mr McLaughlin, 25, plays for DuPont Football Club in a local football league every Saturday.
A defence solicitor told the judge that his client has been electronically tagged since he was first charged in court with the offences three months ago.
The solicitor said Mr McLaughlin been told by a security company that any physical contact during matches could set off his tag.
The judge granted the application but ordered the defendant, who has no previous convictions, to report to police twice a week.