Jonathan Cairns: Family of murdered Ballykelly teenager turn to Facebook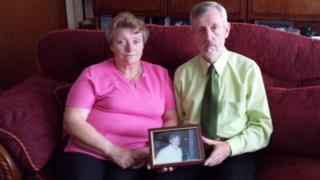 The family of a murdered teenager from Ballykelly, County Londonderry have turned to social media in a bid to find answers to his death 16 years ago.
Jonathan Cairns was 18 when he was attacked on his way home from a night out on 25 April 1999.
A man was jailed for five years for helping to dispose of his body, but no-one has ever been convicted of his murder.
His body was found in Loughermore Forest the day after his murder.
Jonathan's father Raymond remembers the day his son's body was discovered.
His clothes were found at the site of a nearby school the day after he went missing.
"There was a pair of shoes with trousers and a shirt and all on top of it soaked in blood. So I went across and I knew it was Jonathan's clothes," said Raymond.
Jonathan's body was found after in a shallow grave in Loughermore Forest, not far from his home.
"In among the trees there was a bit of fresh digging and someone gave it a lift and out came Jonathan's arm out of the ground," added Raymond.
Hazel Cairns said time does help but that the hurt does not go away.
"I can see him smiling, he was always smiling anyway. He was just happy."
Jonathan's room has been left untouched since the day he was killed.
"I go into the room and his clothes are there, his bed is the same and nobody sleeps in his room," said his mother.
"I'll never be anything else but angry. They took Jonathan away from me. Why did they not come forward and say why?
"They didn't really know him, so why touch him? The evil was in their mind that's all, they wouldn't do it to an animal."
The family have now setup a Facebook page called 'Justice for Jonathan Cairns'. Hazel hopes that it will encourage people to come forward with vital evidence.
"Please keep on trying, if you find anything, hear anything, hear whispers or anything. Don't be sitting back," said Hazel.
"Jonathan knew I loved him, he did. He was a good boy and all his family loved him."
In a statement Det Ch Insp John McVea, who is leading the murder enquiry, said that the investigation remains open and police would encourage anyone who has information that could help bring Jonathan's killer, or killers, to justice to contact them.
A £30,000 reward is still in place.