Feeny alert: Police confirm bomb left near village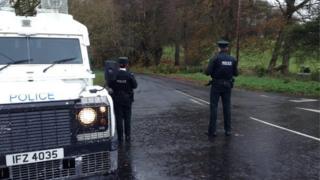 Police have confirmed that a device found near Feeny, County Londonderry, was a viable bomb.
They received a warning on Tuesday night that a device had been left on the Carnanbane Road.
Army bomb experts attended the scene.
A controlled explosion was carried out. Police have said the security alert is expected to continue until Thursday.
PSNI Supt John Magill has called on the "reckless individuals" responsible to "give the community a break".
"This is the second security alert in the area since mid-November," he added.
"Again, we have had road closures and disruption caused to a rural community.
"People are trying to go about their day to day lives. They are trying to get children to school, visit elderly relatives and go about their working week.
"The last thing people need is the recklessness and disruption created by these incidents."
Earlier this month, there was a three-day security operation after a viable explosive device was left in Drumsurn, near Limavady in County Londonderry. Dissident republicans later said they had left it there.
A controlled explosion was carried out on that device.