Vandalism at city cemetery graves in Londonderry 'sickening'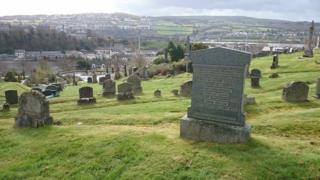 The vandalism of graves at Londonderry city cemetery has been condemned as "sickening".
Police said they received a report of damage to the graves at 09:00 BST on Monday.
Ornaments and a statue are believed to have been smashed overnight.
Teresa Peoples, who was at her stepfather's grave, said: "They had smashed statues, angels, ripped out stuff and taken bracelets from the graves."
She added: "Holy water bottles [were] scattered all over the place and emptied out.
"It was sickening. You think that when you bury someone in here, they're safe and they're at peace."
'Teddy bears torn'
Danny McCartney, who is responsible for the overall maintenance of the cemetery on the Lone Moor Road, said it "beggared belief".
"A number of teddy bears were torn up, ornaments smashed... we've tidied up now, but it's just very distressing that anybody could come and do that at a cemetery where people are grieving already.
"I'm totally shocked and slightly emotional about it. I'm very sad and angry."