Strabane: Homes evacuated after discovery of suspicious object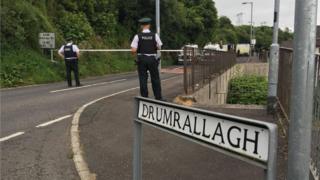 Eight homes have been evacuated in a security alert in Strabane, County Tyrone.
It follows the discovery of a suspicious object near Drumrallagh housing estate, off the Spout Road.
Police and army bomb experts are at the scene and traffic diversions are in place.
One local resident, Ann Jefferson, said she did not know when she could return to her home.
"The policewoman just said they had found an item and that we would have to leave whenever the bomb disposals came," she said.
"A policeman came and was adamant that we got out of the house.
"I asked what they found but they couldn't tell me.
"Where they say it was found, young children play up there in that green area and I would sit up there at the weekends," she said.
Ulster Unionist MLA Ross Hussey has condemned those behind the disruption.
"Once again Strabane is in the news for all the wrong reasons and residents of the Drumrallagh estate are having their daily routines disrupted.
"At this stage it is unclear whether or not the police are dealing with a viable device or a hoax, but what is clear is that once again the security forces are bravely putting themselves in harm's way as they seek to protect the entire community from gangsters and criminals who serve no cause but their own."