Isle of Doagh, Donegal: Search for missing Derry man suspended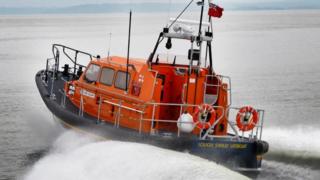 A search for a 59-year-old man missing off the County Donegal coast has been stood down for the afternoon due to weather conditions.
Anthony Griffiths, from Culmore in Londonderry, was last seen on Monday, Irish police (Gardaí) have said.
It is understood Mr Griffiths and his family were on a camping trip in the area.
Land and sea searches around the Isle of Doagh and Trawbreaga Bay area are expected to begin again on Thursday.
Gardaí (Irish police), who are assisting in the search, have appealed for information.
"I understand they (the Griffiths family) pitched a tent close to the sea, near the famine centre car park," said Insp David Murphy.
"At around 9 o'clock in the morning, it was discovered that Tony wasn't in the locality and he hasn't been seen since."
The Irish Coastguard's Sligo based rescue helicopter, Lough Swilly RNLI and members of the public are all involved in the search operation.
"This is quite a large operation," said Lough Swilly RNLI's Joe Joyce.
"Trawbreaga Bay is quite a large body of water so there are strong currents there and it is a difficult area to search," he added.