Ryanair 'likely over time' to quit City of Derry Airport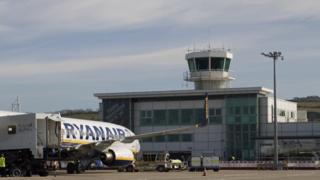 The chief executive of Ryanair has said that the company's remaining services at City of Derry Airport will probably move to Belfast.
Michael O'Leary said air passenger duty (APD) was to blame for a reduction of flight routes.
"I think it's inevitable overtime that the Glasgow and Liverpool services will migrate to Aldergrove," he said.
The comments were made during an announcement of 11 new routes for Belfast International.
On Monday, details were released of a £7m Stormont rescue deal to support the struggling Londonderry airport.
The money will be used to attract new airlines and develop its infrastructure.
The funding package has been made available immediately while negotiations are ongoing with a company interested in using the airport as a maintenance hub.
Last week it was confirmed that Ryanair was to drop a number of services from the city.
The budget airline has guaranteed its services to Glasgow and Liverpool up until Summer 2017.