Londonderry bomb alert: Jail for rioter caught on CCTV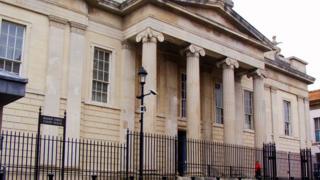 A man who was caught on CCTV taking part in a riot during a security alert in Londonderry has been given a six-months jail term.
Jordan Kavanagh, 21, from Clon Elagh in the Skeoge area, was among a crowd that threw stones and bottles at police lines at the Lecky Road last August.
A prosecuting solicitor said that the rioting took place as police provided protection for army technical officers.
The solicitor said it turned out to be a "viable improvised explosive device".
A defence solicitor said the defendant was so drunk he could not remember being there.
The district judge said Kavanagh was under a number of suspended sentences at the time of his riotous behaviour.
Kavanagh was released on bail, pending an appeal.