Irish language school hit by three break-ins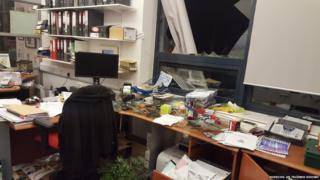 An Irish language primary school is reviewing its security after three break-ins in the past four days.
Windows were broken and the office at Bunscoil an tSléibhe Dhuibh in west Belfast was ransacked.
Between £5,000 and £10,000 of damage was caused to the school and its nursery unit. The break-ins had angered the community, said the school's principal.
"Neighbours had called in and texted their support," said Pilib Mistéil.
"Last night was different. People were coming in and saying: 'We need to catch these people, we need to bring them to justice.
"'We need to stop this immediately.'"
The school, in the Ballymurphy area of the city, has some 200 pupils.