'Go easy on the cerveza,' Derry judge tells offender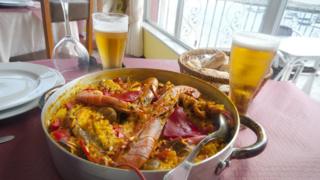 A Londonderry motoring offender has missed his court sentencing to go on a surprise Spanish holiday with his grandmother.
James Moore, from Tullymore road in the Waterside, was due in court on Friday for driving without insurance, tax, L-plates and without a qualified driver.
The 24-year-old then texted his solicitor to request a postponement.
"Tell him to go easy on the paella and cerveza because his fines are going up," said the judge.
'Glowing with a tan'
Judge Barney McElholm asked what was to stop Mr Moore dropping his driving licences into his solicitor's office before going on holiday.
"I will expect to see him in court in three weeks' time with his driving licence and glowing with a tan," said the judge.
The sentencing of Mr Moore, who committed the offences in February, was adjourned until 23 June at Londonderry Magistrates' Court.