Elderly man attacked outside Londonderry courthouse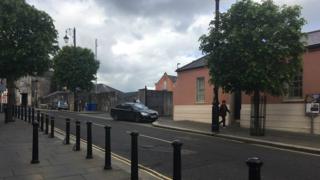 An elderly charity worker has been attacked in Londonderry city centre.
It happened opposite Bishop Street courthouse on Wednesday morning.
Eyewitnesses said the man, who is in his 80s, sustained facial injuries.
The victim was treated by ambulance crews before being taken to Altnagelvin Hospital where he is in a stable condition.
The police are investigating a motive for the attack.
Local journalist George Jackson, who knows the victim, described the scene shortly after the attack
"I arrived to the scene of an ambulance and they were tending to this elderly gentleman who had quite serious head injuries," said Mr Jackson.
"He was able to stand but only with the aid of paramedics. He had a surgical bandage around his head.
"He was bleeding quite heavily from a wound to the rear of his head, his two eyes were badly swollen and his face was blackened and bruised as a result of him being assaulted," he added.