'Boy held viable device' found in Cornshell Fields, Londonderry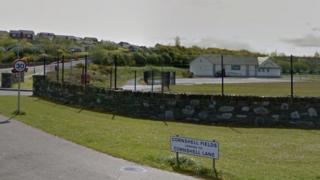 A teenage boy held a 'viable device' in his hands before it was made safe in a controlled explosion in Londonderry, according to a Sinn Féin councillor.
Sandra Duffy said the incident could have been a "tragedy".
A suspicious object was found at about 22:00 BST on Thursday in Cornshell Fields.
"A 15-year-old boy actually handled the device last night before the police were at the scene," Ms Duffy said.
"He found it, he lifted it, and he held it in his hands for a number of minutes before putting it down.
"Now that to me is a worrying development because if that device had off went off in his hands we could be sitting here talking about a tragedy here today."
The police security alert ended on Friday morning. Residents who spent a number of hours outside of their houses have since returned home.
Ms Duffy said she had not spoken directly to the boy but that she had been told about what had happened by other local residents "on the ground".
She said the device was found in an estate with "very young families" and urged people to come forward with information.
"I would ask those responsible to come forward and explain to this community why they caused this disruption here last night.
"This estate is home to elderly residents and young families. There is no place in this for our society, we would want to know why they did it," Ms Duffy told BBC Radio Foyle.
Army bomb disposal experts have taken the "suspicious object" for further examination.