Councillor wants removal of image of masked men with guns on house wall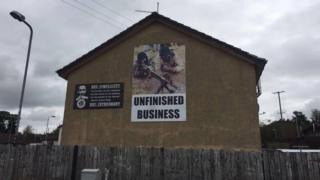 A republican councillor in Strabane has called for the removal of a large image of masked gunmen on the gable wall of a house in the town.
It shows two masked men with a large machine gun with the words "Unfinished Business".
It was put up near a children's play area in Springhill Park.
Paul Gallagher has said that people in the area don't know where it has come out of.
'It's sick'
"People were saying to me that they would prefer that it wasn't there.
"Residents are concerned that it brings the area down."
The niece of a man shot dead by the IRA in Strabane, told the Belfast Telegraph that the poster was an insult to IRA victims everywhere.
Shelley Gilfillan, whose uncle Hugh 'Lexie' Cummings was killed in 1982, said that it normalises violence.
"That will teach the children what to do. It's sick and it will make the children of the area more used to violence."