Funeral for boy killed playing in Derry street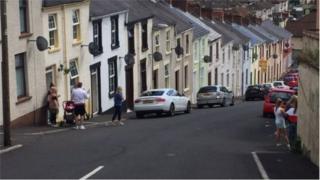 The funeral has taken place of six-year-old Donnacadh McGuire, who died in Londonderry on Tuesday.
He was found with significant injuries in Tyrconnell Street, near the city's bogside, shortly before 10:30 BST and taken to hospital, but later died.
The police said it was "possible" his injuries "were sustained as the result of a collision with a vehicle".
Donnacadh was buried in the City Cemetery in Derry after a requiem mass at St Eugene's Cathedral on Saturday.
Police are still investigating the circumstances of his death and a man who was arrested in connection with the incident has been released on bail.