Sister's tribute to Craig Church after death in China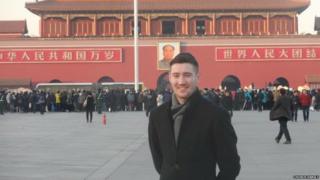 The sister of a Portstewart man who died in a tragic accident in China on Tuesday, has said the family is "shocked and heartbroken".
It's understood 29-year-old Craig Church died after falling down several flights of stairs in the apartment block where he lived in eastern China.
He had been working as an English language teacher at a primary school in Rui'an for the past two years.
His sister, Carrie Church, told BBC Radio Foyle he was a "fun-loving man".
"He was a friend to everyone," she said.
'People adored him'
Ms Church said the family was working closely with the Kevin Bell Repatriation Trust to have her brother's body returned home.
"It's all very raw for us," she said. "He was amazing and loved his job. People adored him in China."
"Craig was your friend if you were young or old," his sister added.
"We are just devastated. He was the best brother, son and friend."