Londonderry pensioner rescued from burning house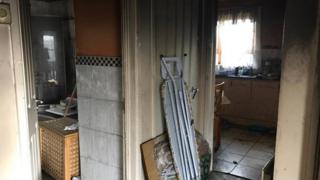 A woman in her 70s has said she is lucky to be alive after a fire at her home on Monday night in Londonderry.
Firefighters believe the fire started accidentally just before 24:00 GMT in the spare bedroom of her semi-detached bungalow at Iniscarn Court.
Gemma McDaid became aware there was something wrong when her lights flickered in the kitchen as the fire was affecting the electrics.
A man who was passing by helped her to safety.
"He saved my life and I wouldn't be here today but only for him", she said.
"I must have turned on my electric fire and there must have been something near it.
"It took me a while to realise that the fire was coming from my house."
Fire officer David Nicholl said that the house did not have a working smoke alarm.
"I cannot stress enough the need for everyone to have a working smoke alarm," he said.
"It gives you an early warning which can save lives."