Baby born following Donegal floods named 'Noah'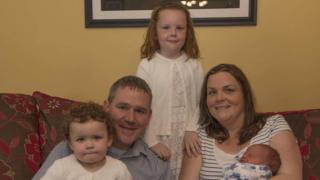 A pregnant woman rescued from floods in Inishowen, County Donegal, last week has given birth to baby boy - and has called him Noah.
Edel Kerin was stranded in the town of Clonmany along with her two young daughters and sister when flooding struck the area last Tuesday evening.
The 35-year-old had been due to give birth that day, but it was Wednesday before the baby made an appearance.
"We thought with the week it was, we would name him Noah," her husband said.
'Biblical'
Edel and her family had been stranded while out doing some errands on Tuesday and a local farmer took them home on a tractor.
Her husband, Damian, had spent the following day cleaning up his parent's home in Cockhill in Buncrana after also getting stranded in the floods.
He did not arrive home until 03:00 BST on Wednesday.
"When I got home she [Edel] said you better get a shower because I was covered in muck and she said because we are for up the road," he said.
"Away we headed to Letterkenny Hospital and a few hours later we had a bouncing baby boy of 8lb 4oz."
The baby came during one of the worst storms of recent times.
The north west of Northern Ireland and Donegal were badly affected with many people trapped in cars or homes.
Damian told BBC Radio Foyle how the couple just could not resist naming their new bundle of joy Noah - particularly with the biblical connections to the name.
"We had thought about a number of different names," he said.
"Noah was one of them because my dad's name is Noel and Edel's is Anthony.
"Based on everything that had gone on on Tuesday and Wednesday, the only word I can describe it is 'biblical'," he said.