Businesses 'can't apply for flood fund'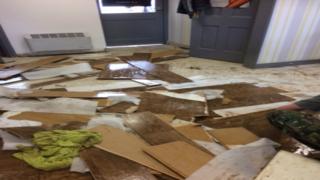 Business-owners whose premises were damaged by last week's floods in the north west have been told they cannot apply for emergency aid.
The Emergency Fund Scheme, run by Derry City and Strabane District Council, is only available to home-owners.
The scheme provides affected householders with up to £1,000 for refurbishments, after their homes have been inspected by council officials.
Homes and businesses were destroyed in storms last Tuesday night.
A Londonderry businesswoman whose premises were damaged by the floods said business owners needed more help from the authorities.
Gail Smyth, who is manager of the nail-bar Professionally Polished, said she was still busy cleaning up after the floods.
"The anger is starting to set in and we aren't getting any help from anybody," she told BBC News NI.
"I have had to clean out my business on my own."
Up to 20 units at the Glendermott Valley Business Park at Church Brae have been affected.
The SDLP has said the Emergency Fund Scheme should be extended to include non-domestic properties like businesses, community and sporting organisations.
SDLP MLA Mark H Durkan said it was important to understand the importance of business to the local economy.
"If there is political consensus around this issue it will be easier to push civil servants to extend the scheme to businesses," he said.
"These businesses need our support."
Derry City and Strabane District Council has been lobbying the government to get the scheme extended, but the failure to restore a power-sharing government in Northern Ireland made that more difficult.
"In the absence of a working NI Assembly there is no mechanism in place that will allow the scheme to be extended," said a council spokesman.