Derry to Dungiven upgrade: People must move in five months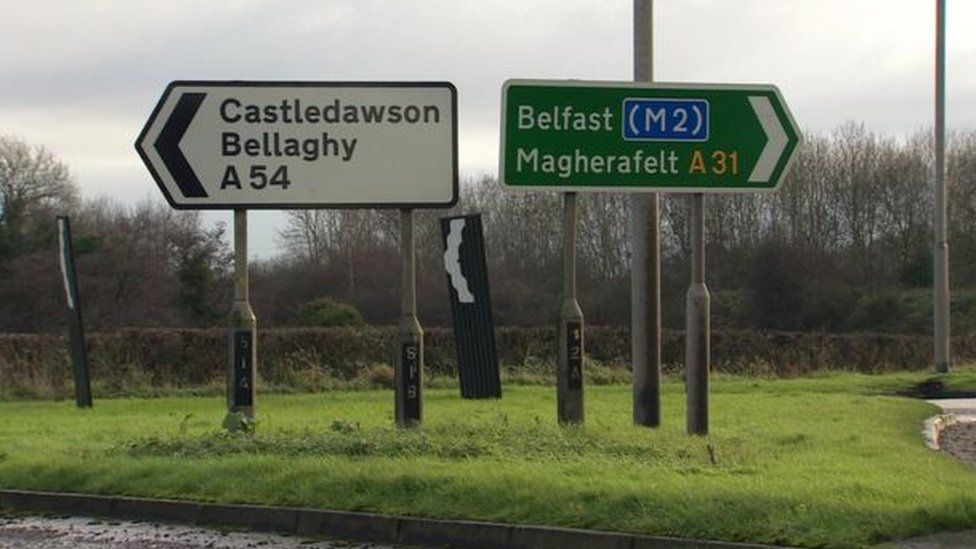 More than 200 people have five months to move out of their homes and businesses to make way for a major new road between Londonderry and Dungiven.
The A6 dual carriageway has been in the pipeline for years and work is due to get under way next year.
The £400m project will upgrade 18 miles (30km) of the road and it is aimed at reducing journey times between Derry and Belfast.
The Department for Infrastructure said landowners would be compensated.
The A6 consists mainly of a single two-lane carriageway, and it has been a bottleneck for decades.
The department has issued an order to purchase land for a 15-mile (25.5km) section of the scheme, between Dungiven and Drumahoe, including a bypass around Dungiven.
Nine homes, 13 businesses and 760 acres of farmland are needed to make way for the road, affecting a total of 230 people.
They have been told the department will take ownership of their land and properties from 19 September.
They can work, live and farm until spring next year when construction work is due to begin.
It is understood the deadline for people to move out is next February.
But one of the people affected told BBC Radio Foyle the time scale had come as a "complete shock".
Dungiven farmer Nigel McLaughlin knows some of the farmers who will be impacted.
"It will be a traumatic experience for people losing their homes," he said.
"It is something we have known has been coming for a long time. It has been discussed for most of my lifetime."
The Department of Infastructure said it had advised those affected to appoint an agent to help with their compensation claims.
"Where land is acquired for a road scheme, landowners will be compensated in accordance with the Land Compensation (Northern Ireland) Order 1982," the department said.
"The purpose of this monetary compensation is to ensure the landowner is put in a similar position to what they would have been had the land or property not been taken for the scheme."
The tendering process to appoint contractors to build the road has begun. It is estimated that this section of the scheme will cost between £230m and £255m.
Construction work is expected to start in spring 2018 and take up to four years to complete.