Huntington's disease: Anger over access to specialist nurse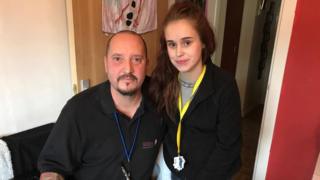 A Londonderry man with Huntington's disease has said it is outrageous that he cannot be seen by Northern Ireland's only specialist nurse because of where he lives.
Simon Clark was diagnosed with the genetic condition in 2003.
The nurse can only provide support to people who live within the Belfast and South Eastern trust areas.
The health and social care board said that it is working to improve care pathways.
Huntington's disease is an inherited and incurable brain disorder that is currently fatal.
About 10,000 people in the UK have the condition and about 25,000 are at risk.
Mr Clark has said that it is "disgusting" that he cannot get access to the services that he needs.
"It is not fair that there is only one specialist nurse in Northern Ireland," he said.
"There is nothing out there for us and there should be."
Huntington's disease is passed on through genes, and children who inherit a faulty gene from parents have a 50% chance of getting the disease in later life.
Mr Clark is cared for by his 23 year-old daughter, Laura, who has also been told she has a 50% chance of inheriting the condition.
She told BBC Radio Foyle that she is not ready to get tested for the condition just yet.
"It is hard to watch my dad knowing that that might be my future," she said.
"There needs to be more awareness of the disease."
The Western Trust confirmed it is not funded by the Health and Social Care Board for a specialist nurse for Huntington's disease .
They said that patients who are diagnosed with the illness are referred to the neurology service at Belfast City Hospital for expert help and advice.
A spokesperson for the health and social care board said: "The Belfast Trust has one specialist nurse for Huntington's disease who covers the Belfast Trust and South Eastern Trust areas.
"Belfast Trust are currently recruiting a Huntington's disease adviser and are currently working with the board and the Huntington's Disease Association to agree how the region is supported."