Letterkenny assault: Woman describes assault horror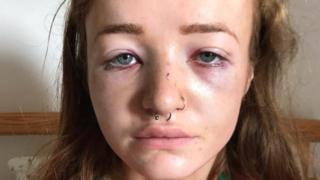 A County Donegal woman has said she thought she was going to die during an assault in Letterkenny.
Shanan Reid McDaid, 18, suffered a broken nose and head and facial injuries during the attack at about 03:00 BST on Sunday.
She said had been waiting for a taxi in Castle Street after a night out with friends, when a man approached her and hit her repeatedly.
An Garda Síochána (Irish police) have said an investigation is under way.
Alleyway
Ms Reid McDaid told BBC Radio Foyle that she feels lucky to be alive.
"After he hit me once I fell and he just kept hitting me and hitting me," she said.
"I didn't think he was going to stop. I thought: 'This is it, maybe I could die now," she said.
"I don't remember why or what made him stop."
Ms Reid McDaid said she thought it was important to speak out to warn other women.
"I got off lightly, it could have been so much worse."
She said she was also subjected to a tirade of verbal abuse during the assault.