Holocaust survivor: 'I was arrested when I was five'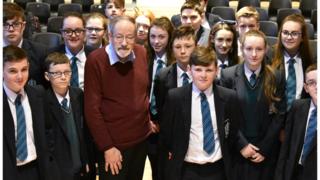 Hundreds of Londonderry children have been hearing a Holocaust survivor describe the horrors of life as a child in the Nazi concentration camps.
Dr Martin Stern told pupils at St Patrick's and St Brigid's College, Claudy, of his arrest by the Gestapo at the age of five.
He is on a week-long tour of schools across the north west.
He said he hoped to give the children a "better understanding of ourselves as human beings".
Pupils heard how his mother and father had fled Germany because it was illegal in 1938 for a German woman to marry a Jewish man.
They settled in Amsterdam, where Dr Stern fondly recalls feeding the ducks in Vondelpark with his mother.
'It was miserable'
Such idyllic childhood memories would soon be violently interrupted.
"The Nazis invaded in May 1940 and I remember German soldiers on the street, the Dutch Nazi party marching in a brass band and I was told they were not nice people, but told in a very guarded way," he recalled.
"If I had blurted that out outside of the home, I knew even then there were very serious consequences."
At the age of five, Martin Stern was detained by the Gestapo while at school.
His architect father had already "disappeared from the family home" and had been caught up in a gun battle where he shot two German soldiers.
He was subsequently sent to Auschwitz.
Dr Stern's mother had died while giving birth to his sister.
The five-year-old boy was transported first to the interrogation centre in Westerbrok before being sent to Theresienstadt, a concentration camp in what is now the Czech Republic.
"At that age you are not able to fully process the seriousness - it was terrible, miserable, but as a child you know nothing else."
For children going to Theresienstadt, survival was very unlikely. About 15,000 children were sent there - only 2,600, at the most, are thought to have survived.
Now aged 78 and a retired immunologist, he said he hoped his own personal story would resonate with the young people he now educates about life in 1940s Europe.
He said his work in schools has importance because "human violence is not confined to the holocaust, and exists all over the world".
Dr Stern said: "Civilisation is such a thin shield and can be easily broken by frightening, chaotic circumstances.
"There is the tendency in all of us to blame others when things go wrong.
"I love talking to groups of kids, when they ask questions they come with fewer prejudices or preconceived ideas.
"That is essential in gaining understanding.
He called for a "a revolution in education".
'Very emotive'
"Education that helps us understand the psychological and brain origins of violent behaviour needs to be part of the education of every child, everywhere and forever, not only here but all over the world," he said.
"The reason we don't understand inter-communal violence is that we don't understand it, in that we don't truly understand ourselves.
"It is very frustrating that this understanding does not exist," he added.
Mrs Colleen O'Kane, head of history at the Claudy school, said the visit was "an enriching, unique and rewarding experience".
"Our pupils have found what he has to say very emotive.
"They are just in awe of what he is able to tell them and his level of detail."
Dr Stern is visiting nine schools this week during his first visit to Northern Ireland, as well as addressing inmates at Magilligan Prison.
He will return to the north west to commemorate Holocaust Memorial Day, at a special event in the Millennium Forum on 25 January.