Derry assault: Family pray for Danny Payne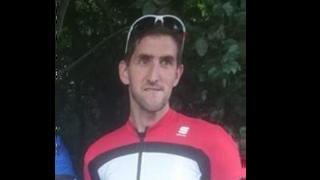 The family of a man who suffered serious head injuries in a city centre assault in Londonderry have said they are praying he survives.
Danny Payne is in a critical condition in the Royal Victoria Hospital following the incident in Newmarket Street at 02:00 BST on Sunday.
Mr Payne's brother-in-law, Chris McElwee, said: "We do not know whether he is going to make it or not."
One person has been charged in connection with the incident.
Mr Payne's wife, Sarah, who is keeping a vigil at her husband's bedside, also sustained injuries in the assault.
"She is in bits and doesn't know what to expect, she is numb," Mr McElwee told BBC Radio Foyle.
The couple have three young children.
"The youngest one is three-years-old and she is just daddy's little princess," said his brother-in-law.
"I do not know what the children would do if they lost their father.
"Danny is one of those people that you could not not like.
Charity work
"He tries to be friends with everybody. He is one of those guys who would drop everything to come and help you," added Mr McElwee.
He said Mr Payne is a former volunteer with Foyle Search and Rescue and does a "lot of charity work".
He said it was very difficult to see the father-of-three in intensive care "when you know how active and how helpful he is".
A 19-year-old man has been charged with grievous bodily harm with intent and is due in court next month.
A 18-year-old woman has been released pending a report to the PPS.