Mother's plea on Stevens-Johnson Syndrome death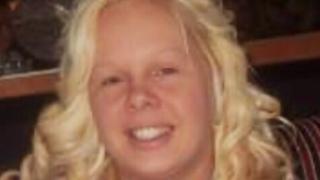 A woman whose daughter died from an extremely rare syndrome caused by a reaction to medication has spoken out to raise awareness of the condition.
Helen Collins' 33-year-old daughter Elaine McGrinder, from Strabane, died in October 2015 after being treated for a kidney condition.
She was diagnosed with a severe variant of Stevens-Johnson Syndrome (SJS), a rare but severe allergic reaction.
SJS causes the skin to separate from the body.
Ms McGrinder developed toxic epidermal necrolysis - a severe form of SJS - after being treated with the drug Ramapril.
Ms Collins said while the condition is extremely rare, it was important to raise awareness.
She said her daughter had a "very long, very sore" death.
"It must be known that this is out there," Ms Collins told BBC News NI.
"Elaine was a very caring person, a loving mother, so good to her children."
At Monday's Londonderry inquest into the death, coroner Joe McCrisken said he hoped the case would improve knowledge and awareness about the condition.
Ms McGrinder's organs have been donated to medical research to help other SJS sufferers.
Derry GP Dr Joe McEvoy told BBC Radio Foyle that SJS affects one or two people per million.
"It starts as a skin condition, which is mild, maybe chills, fever or slight temperature, then it becomes more serious and you get pain in the skin itself and blistering, most commonly around the mouth."
He said Ramapril is a very "good and commonly used medication".
Dr McEvoy said it is not normally one of the drugs listed as a cause of SJS, but added that any medication could cause allergic reactions.