Andrew Allen mum pleads for Derry gun attacks to stop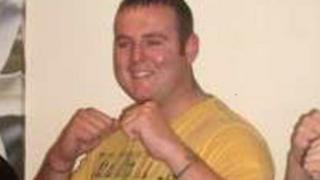 The mother of a murdered Londonderry man has appealed for an end to paramilitary-style attacks in the city.
Donna Smith, whose son Andrew Allen was shot dead in 2012, said those behind the attacks should "just stop."
Mr Allen, 24, was shot dead by a group calling itself Republican Action Against Drugs.
There have been 15 gun attacks in Derry this year, including two in the last week.
Mrs Smith said "every day is a struggle" since her son's death.
"It just devastates a family, it has devastated his brothers, sisters, myself, his father and his kids. It is heartbreaking.
"It brings it all back when you hear someone has been shot - it's sad that this is still going on that it is allowed to still go on."
'Legacy issues'
She said those who carry out such attacks should stop.
"I don't understand the whole concept of it, it is just wrong.
"To shoot anybody is wrong, to me it is not justice," she added.
On Monday, PSNI ch insp Alan Hutton confirmed there had been 15 paramilitary-style gun attacks in Derry since the start of 2017.
In the latest incident a 44-year-old man was shot in the leg in the Shantallow area on Sunday night.
Last week, a gang of masked men forced their way into a 17-year-old's home in the Bogside before shooting him in the leg.
Chief Inspector Hutton said there are legacy issues "where people think this is an acceptable way" of dealing with wider societal issues.
"Paramilitary style attacks can never be acceptable in society. They are wrong on every level, they don't achieve anything," he said.