Breeding pools plan for threatened Lough Foyle oysters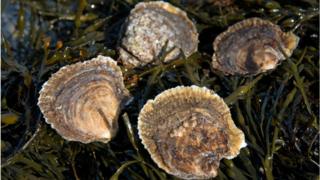 Plans for four breeding ponds designed to enhance the population of the threatened Lough Foyle oyster have been submitted by the Loughs Agency.
The four pools will be located at an unused site at Muff, County Donegal in the Republic of Ireland, said the agency.
Numbers of the native oyster - Ostrea edulis - have declined dramatically over the past 100 years.
Since 2003 it has been classed as a "threatened species".
The planning application submitted with Donegal County Council would see four "spatting ponds" built at an unused site at Muff currently owned by the Foyle Shellfish Company.
An Agency spokesperson said there simply are not enough spat - the term for juvenile oysters - reaching adulthood.
"In order to try to address this problem, Loughs Agency plans to develop purpose built spatting ponds at Ture, Muff, County Donegal.
"The aim is to harvest these juveniles from the spatting ponds and put them back into the Lough once they are old enough, and so adding to the existing wild population," the spokesperson added.
In it's planning submission the Agency further states the ponds will "produce juvenile oysters from Lough Foyle adult broodstock, in a protected environment and stock them into Lough Foyle in order to augment the population."
It continues: "Through the use of this novel and practical approach, the expectation is that the population size and range of the native oyster can be improved benefitting conservation and protection objectives whilst simultaneously enhancing the socio-economic sector for the local community."
The Lough Foyle Oyster population has dramatically declined due to a number of environmental factors, the Agency said.
"These factors can have a negative impact on both breeding success of adult oysters and the survival of juvenile oysters," the spokesperson added.
In 2003, OSPAR - the international body responsible for protecting the north eastern Atlantic marine environment - listed the oyster as a threatened/declining species.