Mental health 'a Cinderella service'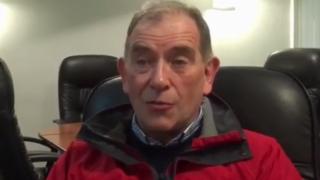 A Londonderry father whose daughter took her own life has said not enough is being done to combat suicide.
Harry Sharkey described current mental health provision in Northern Ireland as a "Cinderella service".
Mr Sharkey's daughter, Joanne, took her own life in 2007, aged 27.
He was speaking following the annual Memory Tree of Lights ceremony that remembers loved ones lost to suicide in the north west.
Mr Sharkey told BBC Radio Foyle: "My daughter, Joanne, was a pharmacist, she was very outgoing, the life and soul of the party, we had no idea she was suffering as badly as she was from depression.
"Mental health is a Cinderella service. We have a situation in politics here where it doesn't seem to matter, where it is put on the long finger, until people sort out their tribal wars."
Christmas is an especially difficult time for bereaved families, he said.
"A candle is lit first thing in the morning and goes right through the day. When we are having our meal we either set a place or bring the candle in and acknowledge Joanne's presence because we still think she is present with us."
The Department of Health said there was a wide range of services in place under the the Protect Life suicide prevention strategy, put in place to combat a "highly complex societal issue", spending £260m a year on mental health services.
"However, we recognise that this investment has been unable to match pace with the demand for service which continues to grow," said a spokesperson.
"A new suicide prevention strategy has been consulted on and will be presented to the next health minister for agreement and will include a range of new services."
The Memory Tree of Lights ceremonies take place in Derry and Limavady each December and are organised by the Northwest and Roe Valley Bereaved by Suicide Support Groups, and supported by the Western Health and Social Care Trust (WHSCT).
The events are held to remember loved ones and to support family and friends during the festive season, said WHSCT Suicide Liaison Officer Fidelis Simpson.
The coming together of those similarly bereaved, regardless of when the death occurred, can provide the opportunity to be with other people who can really understand, she added.
"They have been through the same experience and can offer the opportunity to gain strength and understanding from the individuals within the group."