Bomb-salvaged Derry photo collection sold at auction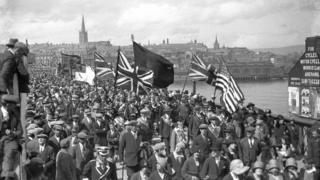 A collection of images from the 1930s, salvaged from a house wrecked by a bomb during Northern Ireland's Troubles, has sold for almost three times its guide price.
The 68 plate glass negatives were discovered by a British army search team under the floorboards of a house in Derry in 1969.
They are part of the Derry Standard archive, a local newspaper that closed in 1966.
The collection sold for £870.
Paul Cooper, auctioneer, said the collection, which had an initial valuation of £250-£300, had sparked a lot of interest.
"Quite often we see glass plate negative sell for £1-£2 each, they can be quite dull and often there is no people and we can't place them in any real context.
"This collection was very different, these were a very real and very rich source of social history," he said.
Mr Cooper, of CJM Asset Management, said a lot of bids were made by would-be Derry-based buyers.
However, a bidder from the west Midlands purchased the collection of images that document 1930s life in Londonderry.
They were found when the British army was tasked to search a home in the Waterside that had been damaged by a bomb.
Initially the search team thought the boxes - which were sealed and tightly wrapped in plastic - might contain ammunition.Bomb-salvaged photo collection up for sale
"When it was found that the contents of the boxes were glass negatives everybody lost interest. Nobody came forward to claim them and they were eventually handed back to the soldier who recovered them."
Mr Cooper said it remains a mystery as to why the negatives were so well hidden.
"As far as we can see there is nothing in terms of the content of the photographs that would require them to be hidden - and at the time they were not regarded as having any value.
"Incredible as it now sounds, newspapers all over the place were trashing this old stuff because of the storage problem it was creating."
The auctioneer said despite being "trashed, bombed and buried, the plates remain in very good condition".
"They really are a quite stunning record of the people and places and life in the city more than eighty years ago," he added.
About 14,000 glass plate negatives were rescued from a skip in 1968 after being dumped by builders and restored by two local men, David Bigger and Terence McDonald.
The Bigger and Donald Collection , covering the years 1927-47, is now held in Derry Central Library.