Star Wars town set for special screening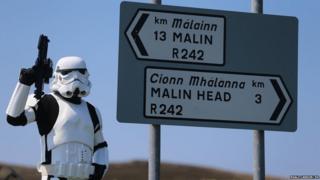 Residents of a remote Irish town set to feature in 2017's biggest movie will mark the occasion with a special screening of the film.
Malin Head will empty when locals leave for their Star Wars: The Last Jedi premiere at a cinema in nearby Derry.
In May, the film's stellar cast and crew descended on the Donegal town to shoot scenes for the film.
Now, locals will finally see how their hometown fares in the galaxy far, far away.
Publican Hugh Farren said it felt right that the community were coming together to watch the film - and said it meant a huge deal for all of them.
"It is massively exciting for everyone and we're looking forward to watching it together," he told BBC news NI.
"The cinema has 15 screens and we've booked one just for us.
"There could well be people going who haven't been to the cinema in years. This film is likely to be the biggest of all time.
Since shooting finished at Malin Head - Ireland's most northern point - there has been much speculation as to how it will appear on screen.
During filming, thousands flocked to Malin Head intrigued by what was happening there.
The construction of a space-aged structure on cliffs a mile from Banba's Crown, a headland known for producing dramatic photographs of the Northern Lights, led to much speculation that the Millennium Falcon would feature in Malin Head scenes.
A non-disclosure agreement with the filmmakers sees locals and landowners sworn to secrecy.
That hasn't stopped the rumour mill though, Mr Farren said.
"There has been lots of talk about how long the town will be on screen," he said.
"At one stage people were saying it's about 13 seconds now we are hearing it could be as much as four minutes.
"Someone has even said the film's ending will be set here, so there's hope they might all come back to film again for the next movie."
He said everyone in the town had their own Star Wars story to tell, and with a steady influx of curious fans and tourists, there's always someone to listen.
"At the moment there is nothing here that really connects visitors to the film, say in the way Game of Thrones is promoted in Northern Ireland - nothing, that is, but the people," he added.
In October, the film's first full length trailer depicted scenes shot in Malin Head, along with scenes filmed in Skellig Michael, off the County Kerry coast.
The previous instalment of the Star Wars saga, The Force Awakens, dramatically closed with a scene shot at the Kerry location, and a long awaited reunion with Luke Skywalker on the planet Ahch-To.
Released in 2015, that movie has now surpassed $2bn at the box office.
Meanwhile, Tourism Ireland has launched its first-ever interstellar marketing campaign to promote the country's role in Star Wars.
Niall Gibbons, the body's CEO, said the billboard - launched into space using a weather balloon - was "a bit of fun, designed to create some excitement as Star Wars fans everywhere get ready for the release of The Last Jedi".
Its launch marks the start of Tourism Ireland's €500,000 (£440,000) Star Wars campaign that will run until mid-January.