DUP walk out of council meeting because of Trump motion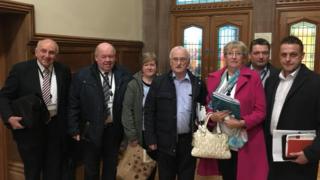 Democratic Unionist Party councillors have walked out of a Derry City and Strabane District council meeting over a motion critical of Donald Trump.
Independent councillor Gary Donnelly proposed a motion calling on the US president to reverse his recognition of Jerusalem as the capital of Israel.
It was passed by a vote of 28 to three, after all seven DUP councillors left the Chamber.
The DUP said the motion had nothing to do with the council area.
"The types of motions being brought forward are ridiculous," said DUP councillor Drew Thompson.
"Last month there was a motion brought forward to do with the Catalonian government."
"There are enough pressing issues at the moment in the city."
But Mr Donnelly said the motion was fully justified, as the "corporate position" of the council was to support the Palestinian people.
"I thought it was important that the council adds our voice to the growing international calls for him to reverse his decision," he said.
SDLP Councillor John Boyle, whose party supported the motion, said international issues were worth discussing.
"The DUP are very well within their rights to question the relevance of any particular motion," he said.
"But at the same time when they are given advice from solicitors that the motion is relevant and should be discussed then it is their duty to look at that."