New jobs at Derry digital firm Wurkhouse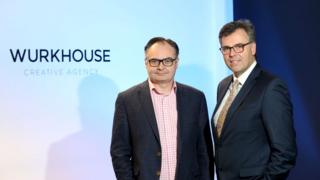 A Londonderry-based technology firm is to create 30 digital marketing jobs as part of an export sales expansion programme.
Wurkhouse is based at Catalyst Inc, at the former Fort George military site.
The new posts will include design, web development, SEO and social media posts.
The expansion will take the Wurkhouse workforce to 49 over the next three years.
Wurkhouse chief executive Troy Armour said the firm was focused on becoming "the leading digital agency in Northern Ireland through our export driven growth strategy".
"We are confident that the North West region has the skills base we need to enhance our team, which will help us to achieve our ambitious plans for growth over the next three years and beyond."
Wurkhouse currently provides marketing services to clients based locally and outside of Northern Ireland.
In 2015, it received assistance from Invest NI of £24,000 to help develop its design team.
Invest NI's chief executive Alastair Hamilton said the 30 new roles will "contribute over £780,000 in additional annual salaries to the economy and offer excellent employment opportunities in the local area."
He said Wurkhouse "is a great example of a successful firm that is making a valuable contribution" to Derry City and Strabane District Council's Strategic Growth Plan which has creative industries as a priority sector.