Drop in number of dogs being put down by NI councils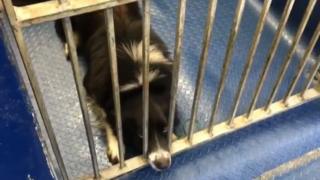 The number of dogs being put down in Northern Ireland has dropped for a third consecutive year.
Dogs Trust said the number of strays being put to sleep by councils fell by 55% in 2016.
Of the 5,042 strays picked up last year only 128 were put down.
The latest figures were encouraging but there was still work to be done, said Oonagh Phillips, Rehoming Centre Manager at Dogs Trust, Ballymena.
She said the findings of Dogs Trust's annual strays survey were a "double-edged sword".
The data showed local authorities "continue to pick up the pieces left by those unwilling or unable to care for their dogs anymore", she said.
In 2015, 286 dogs were put to sleep by NI councils - a drop of 30% from 409 in 2014.
The number of dogs picked up by local authorities in Northern Ireland has dropped by 9% since 2015.
Christmas responsibility
Across the UK, the Dogs Trust survey showed a total of 66,806 strays were picked up by local authorities last year - the lowest number nationally since data collection started 20 years ago.
Ms Philips said: "It is encouraging to see the number of stray dogs has reached an all-time low, however there is still more work to be done.
"Dogs Trust would like to see this number fall further as the charity continues its work with local authorities and partner organisations to take targeted campaigns into communities most affected by canine welfare issues."
Councils can hold dogs at pounds for up to seven days before they must re-home the animal or find space in rescue centres.
Dogs are put down if room cannot be found for them.
Michael Duddy, Chief Dog Warden at Derry City and Strabane District Council said the numbers of dogs being put to sleep in Derry had dropped dramatically in recent years.
He told BBC Radio Foyle: "Twenty years ago we were putting down 20 to 30 dogs a week, right now we are putting down maybe two dogs a month.
"That would only be, for example, if a dog was aggressive, involved in an attack on animals or on a person."
He said it was normal to see a spike in stray dog numbers in the months of March and April and urged anyone thinking of getting a dog for Christmas to realise the responsibility involved.