County Tyrone pub broken into twice over Christmas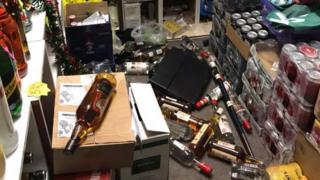 A family-owned pub in County Tyrone was broken into on Christmas morning just 48 hours after another raid.
Hempton's Bar in Newtownstewart was first targeted in the early hours of Saturday morning and then again at about 02:30 GMT on Christmas morning.
A substantial sum of money as well as cigarettes and alcohol were stolen in the first raid.
In the second incident burglars fled empty-handed.
Aaron Hempton, whose family own the pub, said Christmas "has been a disaster".
He said in the first incident thieves got into the bar by breaking down a stud wall.
"It had been a very busy evening in the bar. They took the takings as well as a quantity of cigarettes and alcohol," he added.
He said the family were coming to terms with the shock of the first incident when the bar was targeted for the second time.
In the second incident, in the early hours of Christmas Day, Mr Hempton and his 16-year-old son were locking up the bar when intruders tried to break in via an old fire escape.
"We were locking up, tidying up and my mother was leaving a couple of workers home. We heard a noise and went up, but they made a run for it. We could hear them running across the old tin roof," Mr Hempton said.
"It's tough enough in the pub trade, probably the worst it has ever been. This has just been a disaster of a Christmas for us."
He said his family has owned the bar for 27 years and only once in that time had there been a break-in.
Mr Hempton described the support from the local community as "overwhelming" in the days since the incidents.
The Police Service of Northern Ireland said enquiries are continuing and have appealed for information.