Historic move for Derry's 400-year-old Foyle College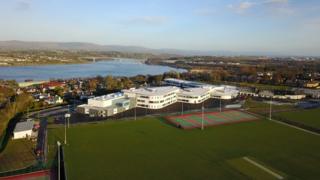 A Londonderry school is celebrating a new era, marking the first time in its 400-year-old history it has left the cityside.
The original Foyle College, located inside the city walls, was educating pupils decades before the siege of Derry in 1689.
Work began on the school's new £23.5m home on the Limavady Road in the Waterside in 2015.
Principal Patrick Allen described the new campus as "state of the art".
"It's just indescribable, words fail me," he said.
"We have 25 acres of grounds, a maximum capacity of 850, a fantastic music suite, a sports hall, an arts suite, state of the art classrooms and technology that's ready for the 2020s never mind 2018.
"We've been treading water for a very long time waiting on this build. It's really going to make a massive impact on learning and teaching for the 21st century."
A predominantly Protestant but nondenominational grammar school, the college has merged with a number of others through the years.
It can trace its origins all the way back to 1617 when it was founded by the Merchant Taylor Mathias Springham as a Free Grammar School on Society Street.
In 1976, Foyle College and Londonderry High School merged to form Foyle and Londonderry College and evolved into a split-site school.
The two campuses were divided between the Northland Road, which housed the junior school, and Duncreggan, which housed the senior school.
In 2011, the leader of the Ulster Unionist Party, Tom Elliot, criticised the school's decision to drop "Londonderry" from its title and revert back to the old name of Foyle College.
The 2013 winner of The Apprentice, Dr Leah Totton, thanked her old school for giving her the "confidence" to succeed in life.
"I had a great seven years there it was hard work obviously but for me it was a great experience," she told BBC Radio Foyle.
"What it really gave me was the confidence to push myself forward, not only in applying for medical school, but putting myself forward for the Apprentice.
"I think those are formative years and I feel very grateful for the confidence they instilled in me during that time," she said.