First NI overseas nursing test centre opens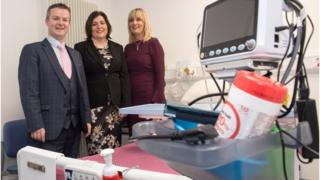 A new test centre to assess the professional skills of overseas nurses recruited to work in the UK is to open in Londonderry.
The Nursing and Midwifery Council Competence Test Centre at Ulster University's Magee campus is the first of its kind in Northern Ireland.
It aims to meet the growing demands for nursing staff from outside the European Union.
Health trusts in Northern Ireland hope to recruit 622 overseas nurses by 2020.
Northern Ireland's chief nursing officer, Charlotte McArdle, said international nurses make an "invaluable contribution" to healthcare in the UK.
"The new Nursing and Midwifery Council Competence Test Centre will ensure that any oversees nurses who apply to work within the health trusts each year, have gained professional registration and that they are fit to practice in the UK at the required standard.
"It is vital that they possess the correct skills and qualifications required," she added.
All non EU nurses recruited by Northern Ireland health trusts will take a competency test at Magee to assess their skills, knowledge and behaviours in a simulated practice environment.
'Tangible impact'
Professor Carol Curran from Ulster University said the centre "demonstrates the commitment of the University and the Department to strengthening and enhancing the healthcare workforce."
"This test centre is a further opportunity to make a tangible impact on the pressing challenges and demands of our health service."
Head of International Recruitment at Health and Social Care Northern Ireland, Lynn Fee, said overseas staff wishing to join the UK nursing register can now do so in "a timely way, assisting overall in the direct intervention of healthcare workforce challenges in Northern Ireland."
Around 45 recruits per week can undergo the competency tests in Derry.
The UK's other testing centres are at Oxford Brookes University and the University of Northampton.