Tourism chiefs hope for 'Derry Girls' boost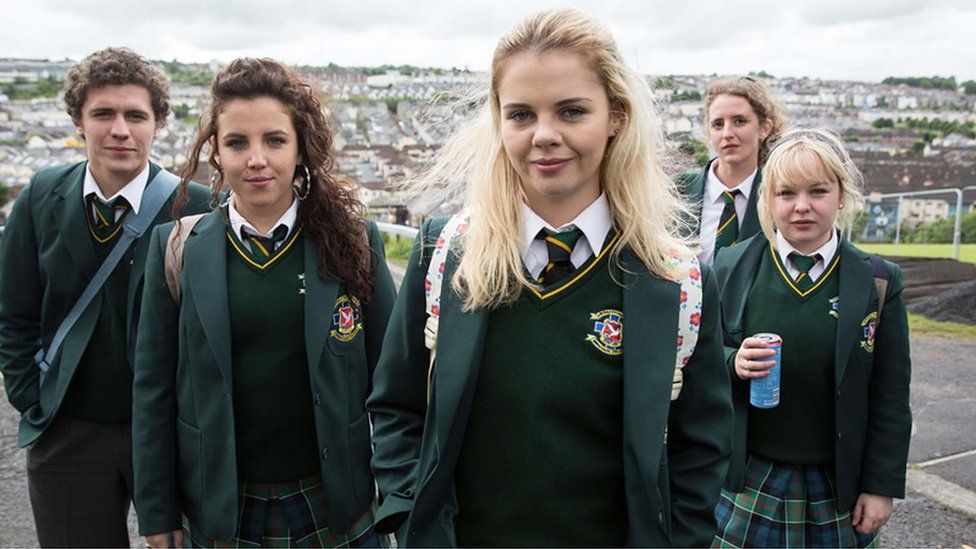 Tourism bosses in the north west of Northern Ireland are hopeful the success of sitcom Derry Girls can boost visitor numbers to the city.
Set in 1990s Londonderry, the show's success has seen Channel 4 commission a second series.
More than 2.5m people watched the first episode - it is the channel's biggest comedy series launch in five years.
Odharn Dunne of Visit Derry said the show has given the city "a real profile".
"We have seen how film and television can be strong motivators for travel with the success of Game of Thrones and Star Wars and now we have our very own special TV edition," he said.
"We've been to Liverpool, Glasgow and Dublin and certainly the main talking point (in those cities) is Derry Girls.
"It has created a bit of a storm and people are talking the city up. We'll see how that impacts and converts into overnight stays."
The six-episode first series has charted the teenage travails of 16-year old lead character Erin Quinn and her pals Michelle, James, Orla and Clare.
Writer and creator, Derry native, Lisa McGee said she has been amazed by how well it has been received by audiences.
"I thought we might get enough of an audience to justify a second series but could never have dreamt it would go as well as it did," she said.
She paid homage to the inspiration of her hometown as the sitcom's setting.
"Derry has given me the show. I have been given lots of funny stories and characters and in many ways it has been quite easy to write because it was all there."
The final episode of the first series of Derry Girls aired on Thursday night.
Filming on series two is due to get under way later this year.