Ice and snow disrupts north west travel and closes schools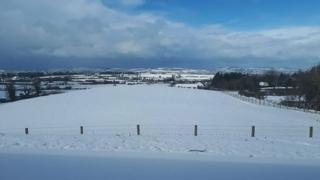 Heavy snowfall and icy conditions across the north west are causing delays and disruption on the roads with motorists being urged to take care while driving,
A yellow weather warning for snow and ice was in place until noon on Monday.
A number of schools in the western area have been closed because of the adverse weather conditions.
Between eight and 15 centimetres of snow fell overnight.
The Department for Infrastructure (DfI) said there had been continuous treatment of the road network with "multiple actions of salting and ploughing".
"External resources have been deployed to provide additional assistance. In the worst affected areas driving conditions are difficult, but all roads on the scheduled network are passable with care and drivers should consider this when travelling," a DfI spokesman said.
Minor delays are expected at City of Derry Airport and passengers are being advised to check flight information online.
Bus services across the region have also been affected by the icy conditions.
Ulsterbus said there had been no cancellations or diversions, but passengers should expect delays on Monday.
A Derry City and Strabane District Council said a number of services have been affected by the weather, including refuse collection.
"Refuse crews will work to reach areas which are safe to access, but in order to ensure the safety of both staff and the general public, will not enter areas which are untreated or where conditions are treacherous," she said.
"We anticipate this may impact on services over the coming days and will provide regular updates on social media."
The Met Office said further heavy hail and snow showers are expected.
The wintry conditions will be confined to higher ground on Tuesday.