Derry City chairman backs Ryan McBride stadium name change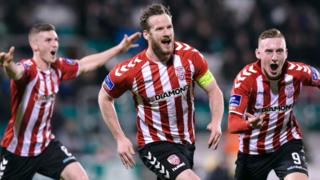 Derry City Football Club chairman Phil O'Doherty has backed plans to rename the Brandywell stadium after the late club captain Ryan McBride.
The 27-year-old footballer died suddenly in March last year.
The Ryan McBride Foundation was established after his death and has proposed renaming the Londonderry stadium in his memory.
Mr O' Doherty said he is "definitely supporting" the campaign group's proposal.
"I have met the McBride family, they have met with the board of directors and I have had a one to one conversation with Ryan's father Lexie McBride."
A working group - set up by Derry City and Strabane District Council who own the Derry ground - is currently exploring how best to honour the club's late captain.
The Brandywell has been the club's home since 1928.
It is currently undergoing the first phase of redevelopment that includes a new 1,100 seater stand, new pitch, new dog track and wider redevelopment and modernisation work.
A second phase, dependant on the securing of necessary funding, could further increase capacity to 5,000.
Mr O'Doherty said design work for phase two was complete and said the project "shovel ready".
But, he said, the lack of a Stormont executive is delaying the approval of funding.
Last season, the club played their home games in neighbouring Buncrana in County Donegal.
Derry City had been due to return to the Brandywell for the first game of the new season but that has been further delayed by a week.
They will now play their first game at the new look-ground on 2 March.